Image Source: Itron Homepage, Product Catalog
Growth in Smart Meters
According to data compiled by the U.S. Energy Information Administration (EIA), nearly half of all U.S. electricity customers have smart meters. Installations of smart meters have more than doubled since 2010, and they are still increasing year-over-year. Berg Insight, a research firm focusing on IoT, predicts North American smart meters to increase by 8.0% per annum between now and 2024 reaching an estimated 142.8 million units.
Moreover, the EIA believes new state policies are one catalyst in increasing the growth of smart meters (also known as Advanced Meters or AMI). Smart meters offer a two-way flow of information between the customer and the utility provider, which can lead to dynamic rates and cost-effective demand management programs.
Itron, Inc.
Itron, Inc. is one of the companies in this space, and its stock has seen robust gains over the last 365 days, during which Itron's share price has increased 65.2% compared to the S&P 500's 24.8%. In Q3 2019, Itron's total revenues increased 5% compared to Q3 2018. The company also has a notable backlog of $3.1 billion.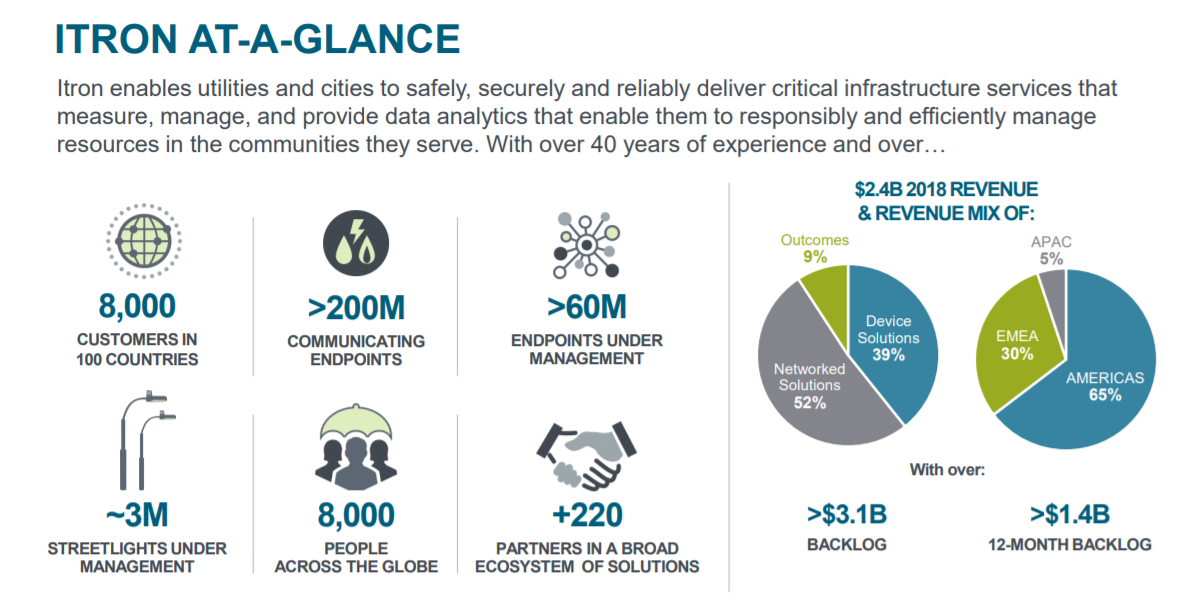 Image Source: Itron Investor Update, November 2019
"These results were primarily driven by strong demand in our Networked Solutions segment. We continue to see a healthy pipeline of customer activity," said Itron's President and CEO Tim Deitrich in the Q3 2019 earnings press release.
Product Segments
Itron has three segments:
Device Solutions – This segment includes standard gas meters, water meters and other hardware products. Year-over-year this segment decreased by 1% in total revenues from Q3 2019 to Q3 2018.
Networked Solutions – This segment includes smart meters, automated meter reading technology, smart street lighting and other smart city solutions. As Mr. Dietrich stated above, this segment saw the largest year-over-year revenue increase of 11%, adding more than $35 million. The company attributed this gain to the growing footprint of connected devices across North America along with increasing customer deployments. Readers should note, however, the company did see both gross margin and operating margin decrease in this segment from Q3 2018.
Outcomes – This segment includes enhanced software for interpreting data to drive resource efficiency. Year-over-year this segment was down 1% on a decline in prepaid shipments into Europe, the Middle East and Africa. In contrast to Itron's Networked Solutions Segment, the Outcomes Segment saw both gross margin and operating margin increase in Q3 2019 to Q3 2018.
The Networked Solutions Segment was the bright spot for Itron in Q3 2019. Itron's Smart Cities Solutions is modernizing Chicago's infrastructure — this includes the installation of 100,000 new LED lights — saving taxpayers $100 million over the next decade, according to the company's website.
Another encouraging news item for the company is the ongoing collaboration with Xcel Energy. In September 2019, the two companies agreed to deploy smart meters across Xcel Energy's service territory, which includes Michigan, Minnesota, Wisconsin, North Dakota, South Dakota, Colorado, Texas and New Mexico. The deployment will happen over the next five years, and the collaboration will also include automation solutions for the existing power grid, which will improve grid health monitoring and outage management — all of which are designed to help reduce operating costs. In the Q3 2019 earnings call, Mr. Deitrich was asked about the collaboration with Xcel and what the deal hinted at for the industry as a whole. He replied:
When it comes to the regulatory side of things, we definitely see favorable movements on the part of regulators to make it easier for our utility customers to invest in these types of scenarios. So, things like allowing software as a service to be capitalized and built into the rate cases is definitely moving. It is done on a state-by-state basis. So it takes a while for it to roll through each one of the states, but it is happening, and we definitely see favorable tailwinds for our business, and we think for that rebuild resiliency and robustness in the web, in the grid itself as a result.
Smart Meters Are Not Universally Applauded
The growth of smart meters is obviously a positive catalyst for Itron, but the devices are not without detractors. In 2018, regulators in Kentucky and Massachusetts both rejected proposals to install smart meters because they did not believe the installation expense was justified by the savings. Similar decisions have been seen in Virginia and New Mexico.
To this point, recent data from the Edison Foundation Institute for Electric Innovation (IEI) found smart meter installations may be slowing. The report shows installations rose more than 11% annually from 2017 to 2019, but predicts only a 9.1% increase in 2020.
Conclusion
We think smart meter growth will continue, and Itron is focused on improving energy efficiency for these devices. Recently, the company announced that its smart meters will feature built-in analytics from Bidgely, a provider of data analytics to the utility industry. According to press coverage, these new analytics will be more digestible for utility customers and offer simple recommendations.
Itron is set to announce its Q4 and full-year 2019 results on February 24th after the close of the market. For 2019, the company has maintained its revenues guidance in the range of $2.45-$2.50 billion.
_____
Equities Contributor: Stephen L. Kanaval
Source: Equities News