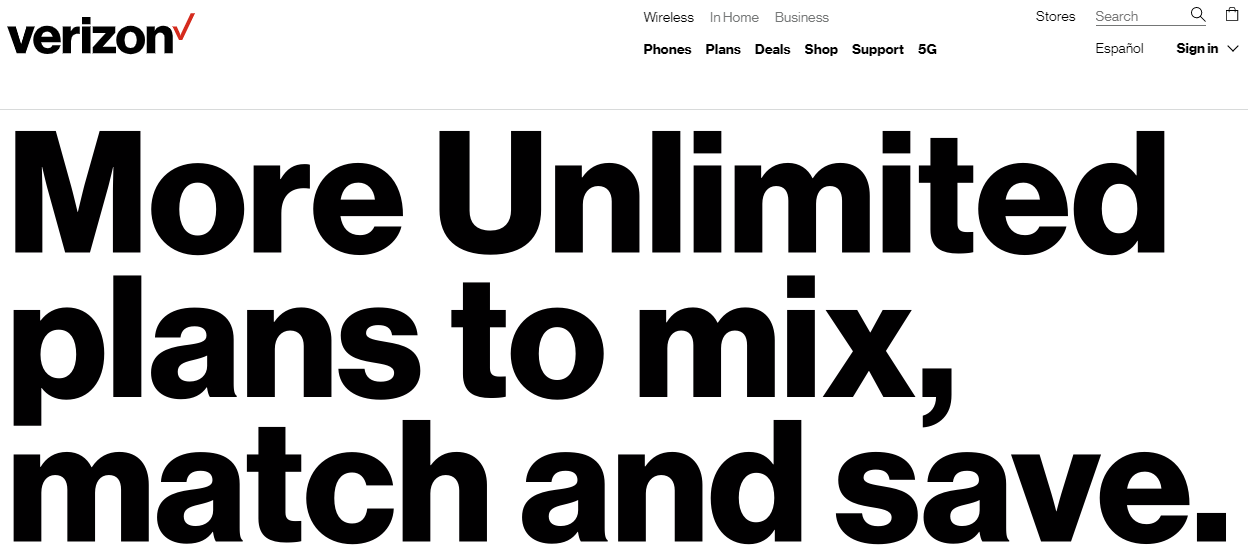 Verizon says they are now focusing on disrupting traditional cable TV with "Mix and Match" on their FiOS pay TV service. Could they be getting on the growth path once again? Looks like that's their strategy. So, let's take a closer look at the changing pay TV industry, Verizon FiOS and whether they can succeed?
They seem to be saying the right things. What I mean is they seem to be focused on user pain points of traditional cable TV. They are talking about saving users money and being innovative. They will use a la carte pricing.
It looks like they are trying to attract aggravated cable TV customers, of which there are plenty.
Pay TV has already been dramatically changing the cable TV industry dramatically over the last decade and especially in recent years. Looking backwards, cable TV leaders were Comcast Xfinity, Time Warner Cable, Charter Spectrum, Altice, Cox and others.
Today, top pay TV players are AT&T and Comcast Xfinity
Today, things are different. The top two competitors in the pay TV space are now Comcast Xfinity with their ownership of NBC Universal, and AT&T with their ownership of DirecTV and Time Warner, which they renamed Warner Media.
Comcast acquired NBC Universal. AT&T saw growth opportunity in the television and entertainment space and made several key acquisitions themselves.
AT&T acquired DirecTV. They also acquired Time Warner. They changed the name to WarnerMedia and own all their assets including Warner Brothers, CNN, loads of content and much more. AT&T has seen substantial and rapid growth.
Next, AT&T and Comcast are also rapidly moving into the new streaming battleground with HBO Max and Peacock. This will compete with Disney+, Apple TV+ and a growing number of competitors.
Rapid growth from AT&T caught Verizon's attention and now it looks like they are finally starting to focus on this same opportunity going forward.
So, how successful will Verizon be?
Verizon FiOS following AT&T into pay TV
That's good news for Verizon, their shareholders, workers and customers. If done correctly, this could be a new growth area for the company and their shareholders.
The next two questions are, will this positively impact Verizon growth, and will it impact the pay TV industry?
First, will it positively impact Verizon growth? Yes, if this is done correctly, this could have a positive impact for Verizon.
To be successful, they must do everything right. They must make a compelling offer that helps them rise above the crowd. They must promote it well. They must price it right. They must solve a problem the cable TV users face in order to attract them.
Problems faced by cable TV users
Every year traditional cable TV companies like Comcast Xfinity, Charter Spectrum, Altice, Cox, Cablevision and others, seem to raise their prices. They also play a shell-game with the channels and which bundle they are part of. This forces customers to buy more bundles than they need and pay more than they want.
This has always served the cable TV industry since they had no real competition in the past. So, they had nothing to lose.
This has always been great news for investors, and not so great news for customers.
However, in recent years the cable TV industry has been changing. Competition is increasing with companies like AT&T, Netflix, Hulu and much more.
IPTV and 5G wireless pay TV will transform cable TV industry
Bottom line, every company needs to stay on the growing side of the growth curve. If not, trouble starts for the long term.
Cable TV is changing toward more general pay TV. Pay TV can be delivered to the customer over the Internet using IPTV. Going forward, pay TV can also be delivered using 5G wireless.
In fact, I believe 5G wireless pay TV will be a powerful transformational evolution of traditional pay TV over the next several years. This will force traditional cable TV models to change in order to grow.
One thing customers notice and do not like is how many cable TV companies play a shell game to get customers to pay more. They take a popular channel out of one bundle and put it in another less popular bundle. That means customers must now subscribe to that bundle as well and it costs them more, month after month, just to get the one channel they want along with a host of channels they'll never watch. Take a look at your full cable TV lineup. How many channels have you only skipped past and never actually watched? 10? 50? 100? Do you enjoy paying for all of those ghost channels?
Cable TV companies play shell games to get users to pay more
This has been the way many cable TV companies have increased revenues year after year. But with more competition, that easy path to increased revenues should change.
Over the last decade, I have been saying a la carte TV is a fair offering to customers. It lets them choose the channels they want to watch and to pay for only what they choose.
This is the path Verizon FiOS is taking. It sounds great. Marketing buzzwords that should work.
The truth is, we have access to hundreds of channels, but most of us watch the same five to ten to fifteen channels. We don't watch the rest. So, paying to get them is a waste of money.
That's why a la carte could be very popular for a group of customers.
The only problem is, a la carte costs more per channel. So, the concern is the average user may not save money, defeating the whole purpose.
This is the world that Verizon FiOS is moving into. I like what they are doing. They are giving the customer the choice. Great marketing angle.
The problem is, Verizon has offered FiOS pay TV for years, but they have not focused on growth. Instead they focused on other things like acquiring AOL and Yahoo and creating another Amazon.com or Alibaba type service.
This strategy never made sense and never worked. So, I am very happy they have decided to join the growing and changing pay TV sector.
Going forward, they look like they will start to focus on their FiOS pay TV offering. That could help them with growth. That's the good news.
AT&T and Comcast are the heavy hitters in pay TV today
However, both AT&T and Comcast own other significant assets. AT&T owns AT&T TV, WarnerMedia, CNN and news and entertainment content. Comcast owns NBC Universal and all their TV assets. That means these two companies are the heavy hitters in pay TV today.
Verizon FiOS is a service offered by a wireless company. This is good, but there is not as much growth potential. That means we may see Verizon acquire some content companies going forward. Stay tuned.
The other question is this. Will Verizon impact the pay TV industry with FiOS?
Because they don't own any content and because FiOS is a small pay TV player, I don't think so. The pay TV industry has grown and changed so much over the last decade and Verizon basically sat out that transformation.
They can be a player, but they will have to build their way there and that will take time.
Streaming TV like HBO Max, Disney+, Apple TV+, Comcast Peacock
Going forward, innovation and growth may come from streaming TV services like AT&T HBO Max, Disney+, Apple TV+, Comcast Peacock and others. It's a new kind of TV.
This is new. This is not the space that Verizon is entering. Who knows, they might eventually become a player in streaming TV, but it won't start out that way.
Verizon is re-entering the pay TV space late. Better late than never. The question is, can they use this to accelerate growth the way AT&T and Comcast have? And will they enter the streaming TV area like competitors are moving toward?
So, while I don't see them impacting the larger pay TV space at this early stage, they can be successful at growing their own brand value in the marketplace the same as others have done. That's the shining city on the hill they are trying to become. Now we wait and see how well they do going forward.
Jeff Kagan is an Equities.com columnist. Kagan is an Industry Analyst and Influencer focused on Wireless, Telecom, Pay TV, Cloud, AI, IoT, Digital Health, Health Tech and Healthcare. Email him at jeff@jeffKAGAN.com. His web site is www.jeffKAGAN.com. Follow him on Twitter @jeffkagan.
_____
Equities Columnist: Jeff Kagan
Source: Equities News